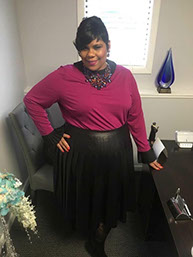 Pastor Vinice began her ministry while attending college. There she developed her love for music and passion for singing. She served as choir director and organized many choir workshops with various Illinois colleges.
Today she is an anointed Psalmist and teacher. Pastor Vinice has sung with various recording groups in Chicago such as The Chicago Mass Choir. She has served as elder, Sunday school teacher, and praise and worship leader. In 2003, Pastor Vinice Co-founded with her husband, God's House of Prayer and Restoration Ministries in Chicago, IL for seven years. In January 2009, she was ordained as Pastor and served as co-Pastor in the ministry. In 2010, Pastor Jonas along with his wife, Pastor Vinice, accepted the call to Pastor New Covenant Worship Center in Joliet, IL.
A graduate from Western Illinois University, she has a career as a social worker. Pastor Vinice is passionate about education and instills that in her children. She states that her family is her first ministry and is a loving wife and mother of three.