History
In March 2009, New Covenant Worship Center was established with 13 members, after their previous ministry was dissolved. These 13 transitional individuals stood faithfully on the Word of God, that there was still work in God's kingdom. Believing that God had a pastor in mind for NCWC, a pastoral search committee was established. Before the search committee could formally send out any advertisement for a pastor, one of the 13 reached out to Pastor Jonas Jones who then pastored "God's House of Prayer and Restoration Ministries" of Chicago, IL. . Pastor Jones had already been prophetically asked a question 6 months prior, "what would you do if you were called to pastor a church in Joliet? His response was …. "If that is the will of God for my life, then I will go"!
In June 2009, Pastor Jonas Jones began ministering on a regular basis at NCWC. By December 2009, he was unanimously approved by NCWC members as the new pastor. In March 2010, after dissolving his ministry, he was officially installed as pastor by Apostle Jerinald Powell. Accompanying Pastor Jones was his wife, 3 children and several former members of "God's House of Prayer and Restoration Ministries".
The Bible says upon this "Rock I will build My Church, and the gates of hell shall not prevail against it." Through the faithfulness of 13 individuals and Pastor Jonas Jones' leadership, "New Covenant Worship Center" has grown from 13 to 150 plus members.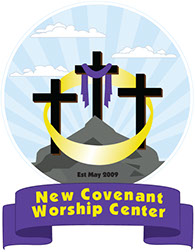 Meaning of Church's LOGO:
3 crosses: symbolic of "God the father, the Son and the Holy Spirit" who was the strong tower in which their faith and trust was built upon. These crosses were also a memoriam to Mr. Carmel Vance, late husband of Mother Betty Vance who envisioned a church with 3 crosses erected at the peak of the building...
Gold ring: showed divine covenant that was entered into on March 2009 between the 13 and the Holy Spirit...
Purple bunting Scarf: represented the blood of Jesus that covered and protected them as they continue to do the work in which they were chosen to do.